BEAMO PORTAL
Make space for collaboration.
Provide an immersive collaborative experience for all your teams, clients, and contractors, without going onsite.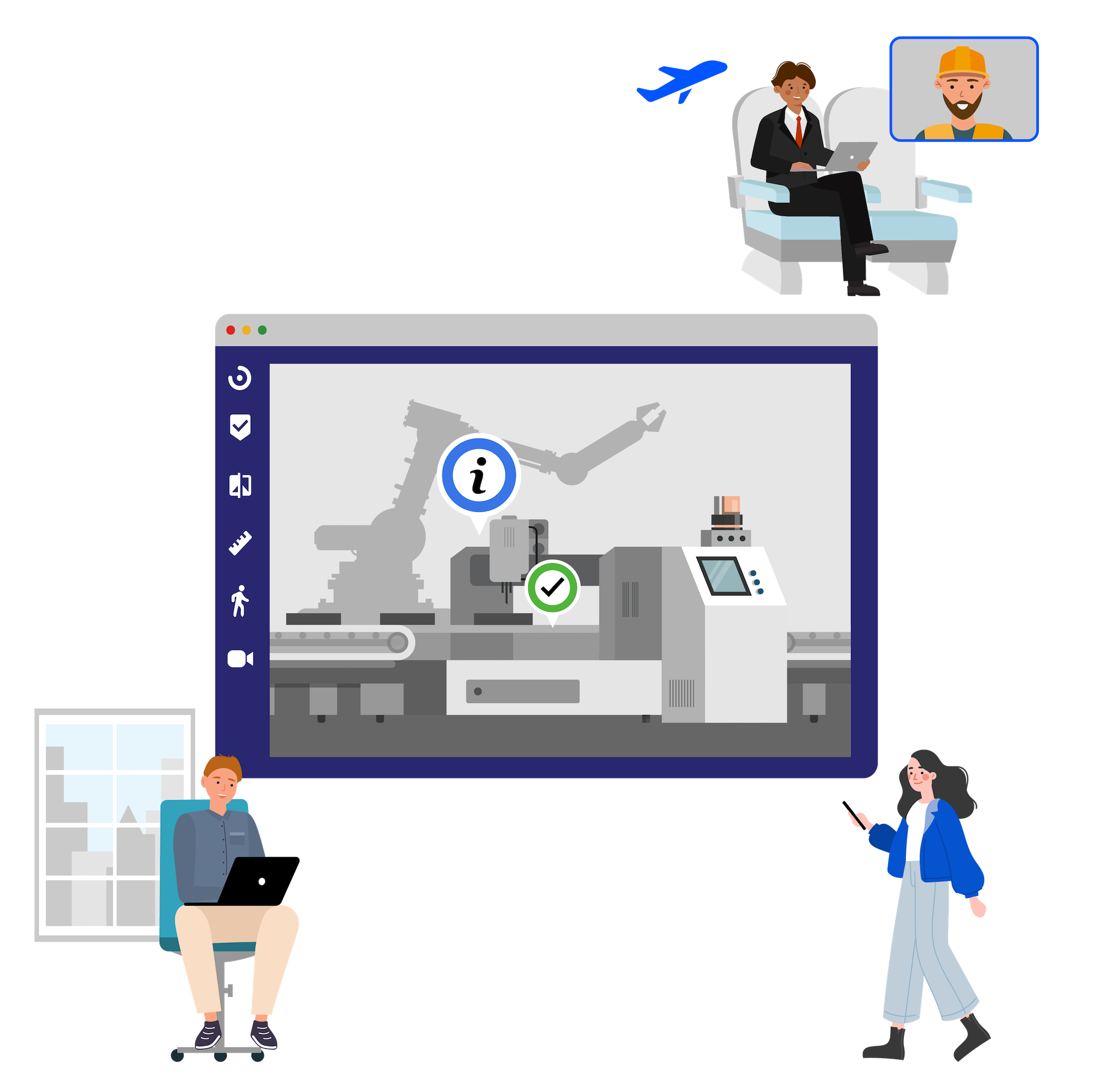 360° VIRTUAL INSPECTION
Work remotely, achieve success globally, together.
Bring all stakeholders under one unified vision. Each team can create its own custom content and share it securely, at the push of a button.
HOW IT WORKS
Natural and intuitive
single source of truth.
Say goodbye to poor user experience. Explore the reality of the site, first hand, and find information where it is supposed to be.
POWERFUL FEATURES
Your own immersive
3D Workspace
A 3D Workspace uses the digital twin as a canvas for documentation and collaboration. It provides a 360° immersive walkthrough of your sites and is packed with collaborative features to take your inspection and documentation processes to the next level.
Tag

Comment

Measure

Compare

Guide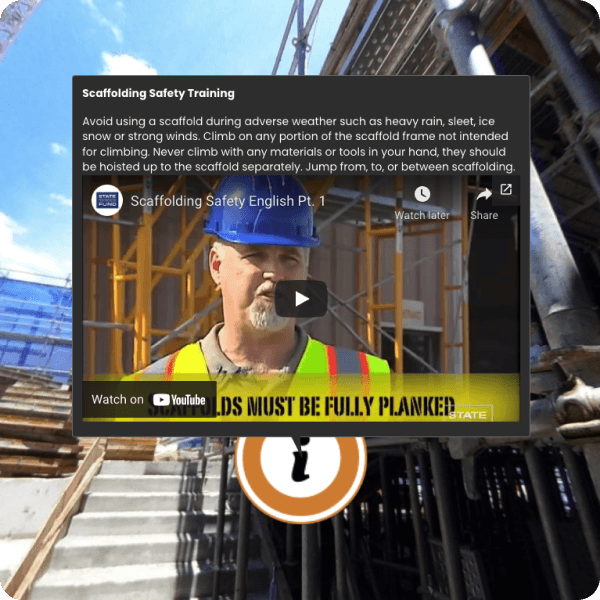 Highlight the things that matter
Tags are attached to a specific object or place of interest for the purpose of identification or to inform other users in the 3D Workspace.
Convey different types of messaging: warning, interrogation, information, interdiction, and validation.


Add images, videos, files, or links to Tags.


New feature: Embed any content easily using Iframes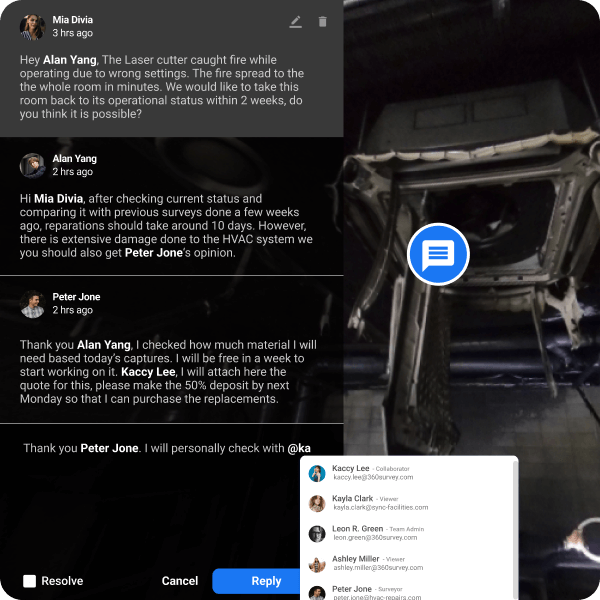 Leave a note to your teammates
Unlike Tags, Comments let you directly communicate with others to resolve issues or emergencies.
Add written remarks to a specific object or place of interest to express an opinion or reaction.


Mention your teammates and communicate with each other to resolve pressing matters


Get notified when mentioned and check your notification in your dashboard to keep track of tasks.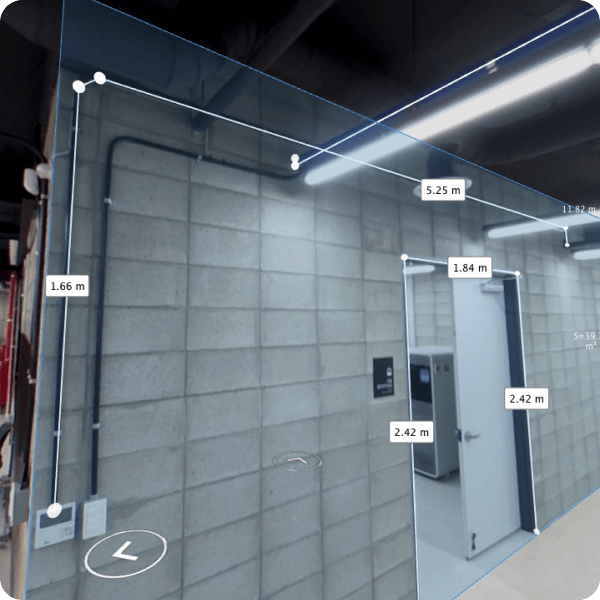 Take measurements without going onsite
Remotely measure the dimensions and volumes of any visible objects or space directly in the 3D workspace.
Create polylines to measure the total length of complex objects, cables, pipes,...


Create 3D Objects to measure the surface area of a plane or the volume of an object


Save your measurements in the 3D Workspace to share them later with others.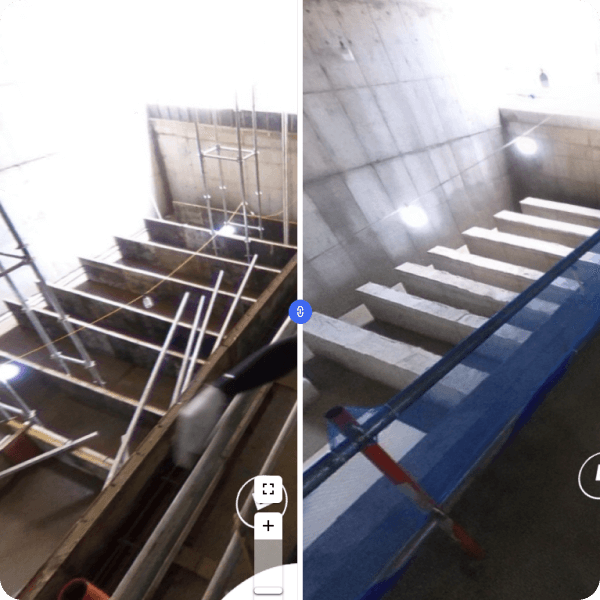 Visualize your project progress over time
Beamo lets you capture as many snapshots of your sites as you want so you can monitor the evolution of a space through time easily.
Compare different site surveys side-by-side using a split-screen interactive view.


Each site survey is automatically linked to other surveys taken in the same space, without manual adjustment.


Select which versions of the survey you would like to share with others to protect confidential information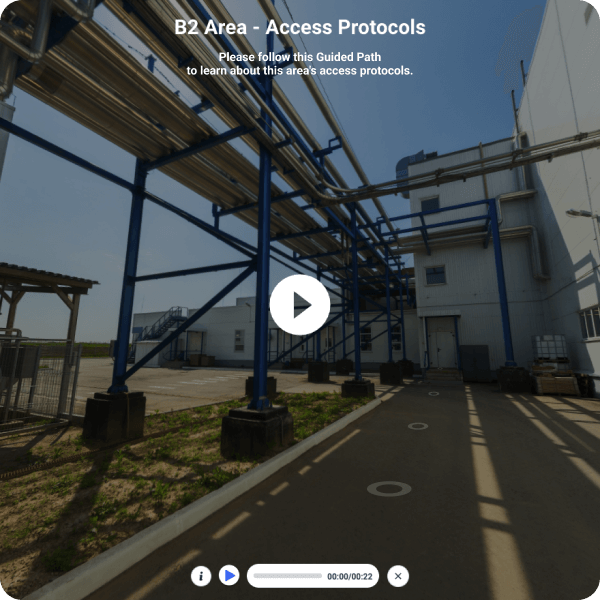 Give a tour to your teammates
Guided Paths are immersive and interactive virtual tours of your sites that you can record in advance and play at will.
Simply create a Guided Path by walking around naturally, each interaction will be recorded.


Organize your content into different folders. Play, stop, explore, and resume tours at your convenience.


Guided Paths are useful for self-onboarding, showing access protocols, or for training purposes.
NEW FEATURE
Meet in person
from anywhere
Avoid sharing your screen over your favorite video call platform and meet directly in the digital twin instead. Communicate the information that you want to share more immersively.
NEW FEATURE
Take Tags to the next level with iFrames
Make the right decision with up-to-date information about the site. Beamo brings results right away, no need to send an expert or dedicated team onsite.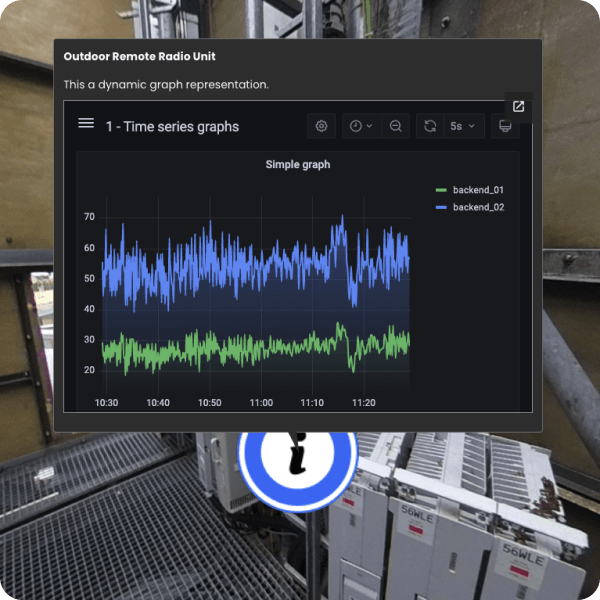 CUSTOMIZATION TOOLS
Enterprise-ready
by design
We make solutions hand to hand with our clients and provide the best experience for large teams.
SECURITY
What do I get?
Beamo works consistently to improve the security and confidentiality of your information.
Each Beamo account can be deployed in a Virtual Private Cloud (VPC), which provides an isolated virtual environment for better security.
Beamo user management is a hybrid of Role-Based Access Control (RBAC) and Attribute-Based Access Control (ABAC) frameworks.
Beamo enables Single Sign-On (SSO) authentication scheme to allow users to log in with a single ID, without re-entering authentication factors.
Want to take Beamo for a 360° spin?
WORK WITH BEAMO
Let's do something spatial
There are massive amounts of data being generated by your sites, and while Digital Transformation is well on its way, you may find that current 2D workflows or applications lack dimension. Indeed, without a Digital Twin to give ground-truth visibility, your framework is only telling half the story. Integrate with Beamo to gain actionable insight based on immersive and spatial technology.
GETTING STARTED
What is a digital twin and why do you need one?
What is a digital twin, what is Beamo's take on the definition and why do you even need one. Today we explore the present definition of the digital twin to try to understand its scope and potential.
LEARN MORE