PROJECT MANAGEMENT
Record your project's progress.
With Beamo, get the information you need to plan your projects, and keep track of your progress at all times.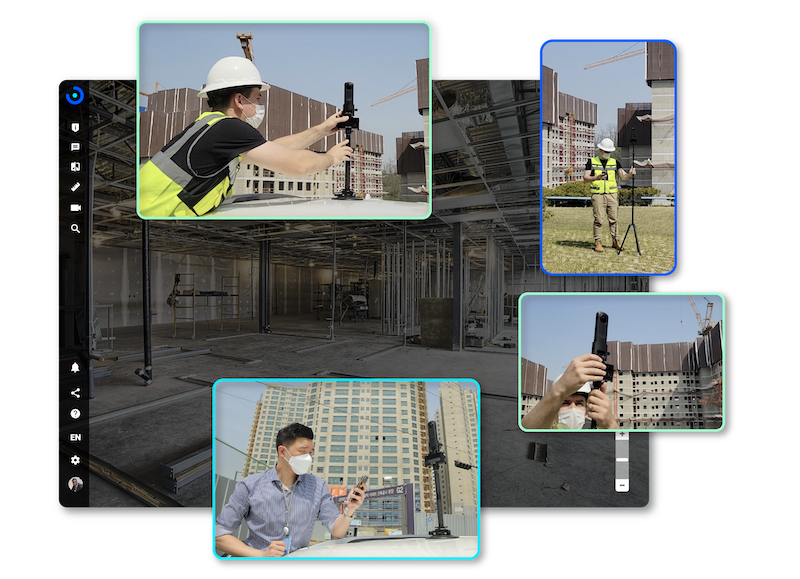 The devil is in the details.
For large scale projects, it's easy to miss out on some of the finer details. Beamo simplifies your workflows, allowing you to focus on what matters most.
80 %


POTENTIAL RISKS
AVERTED
Without preparation, failure is almost a certainty. Study your sites and know exactly what you're dealing with to prepare in advance for all possible outcomes.
50 %


WORKFORCE
TIME SAVED
Site surveys and reports have never been this easier. No more slide presentations with hundreds of slides and pictures. Automate your inspection and reporting processes.
40 %


FEWER TRAVELS
ONSITE
Avoid lengthy travels by capturing a complete picture of your facilities and avoid going back for missed details or for the needs of other departments.
3D WORKSPACE
Go according to plan.
Beamo allows you to create digital twins of your worksite and capture detailed changes over a project's life.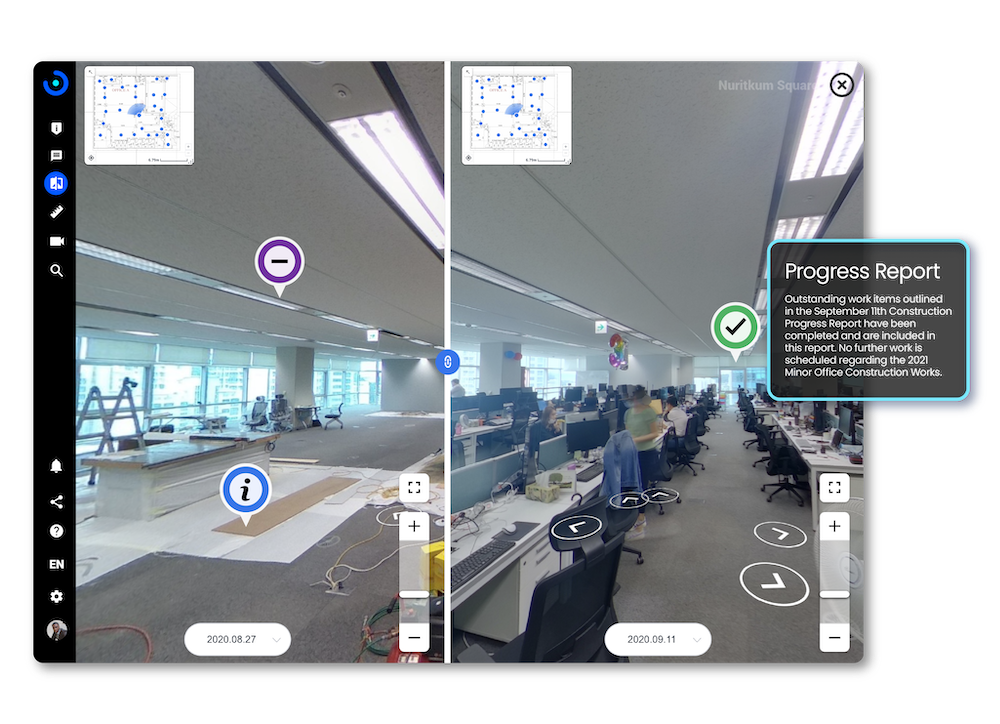 Prepare for large-scale projects meticulously.
Plan for success by studying all aspects of a site and its environment in thorough detail, onsite and through its digital twin. Use the information uncovered to plan for an efficient and successful project.
Work together towards the same goals.
Effective communication is needed to produce quality work, whether it's a team of a dozen or over hundreds. Collaborate in one workspace and share the same perspectives regarding projects and tasks.
Visualize your work in progress.
It's hard to report on progress in a slide presentation. But it's easy to create an immersive 360° digital twin of your site. Monitor your progress over time and compare plans vs actual outcomes.
Want to go for a 360° spin?
USE CASES
Zero in on your critical projects.
Beamo is a simple and scalable digital twin solution that can handle any type of project, in any scale or level of complexity.
FEATURES
A powerful solution for team projects.
Work together with the entire team towards the same goals with an intuitive and scalable platform.
Want to go for a 360° spin?
SOLUTION
Documentation - All your information at your fingertips.
With Beamo, keep records, curate tribal knowledge, and reduce information loss. Beamo allows you to input important information while capturing spaces, placing valuable knowledge in its appropriate context.
LEARN MORE
CASE STUDY
Major semiconductor manufacturer introduces Beamo as a framework for immersive information management.
LEARN MORE