BEAMO APP
Make digital twins
10x faster
Beamo allows anybody available onsite to easily and quickly capture any space using a smartphone and a 360° camera.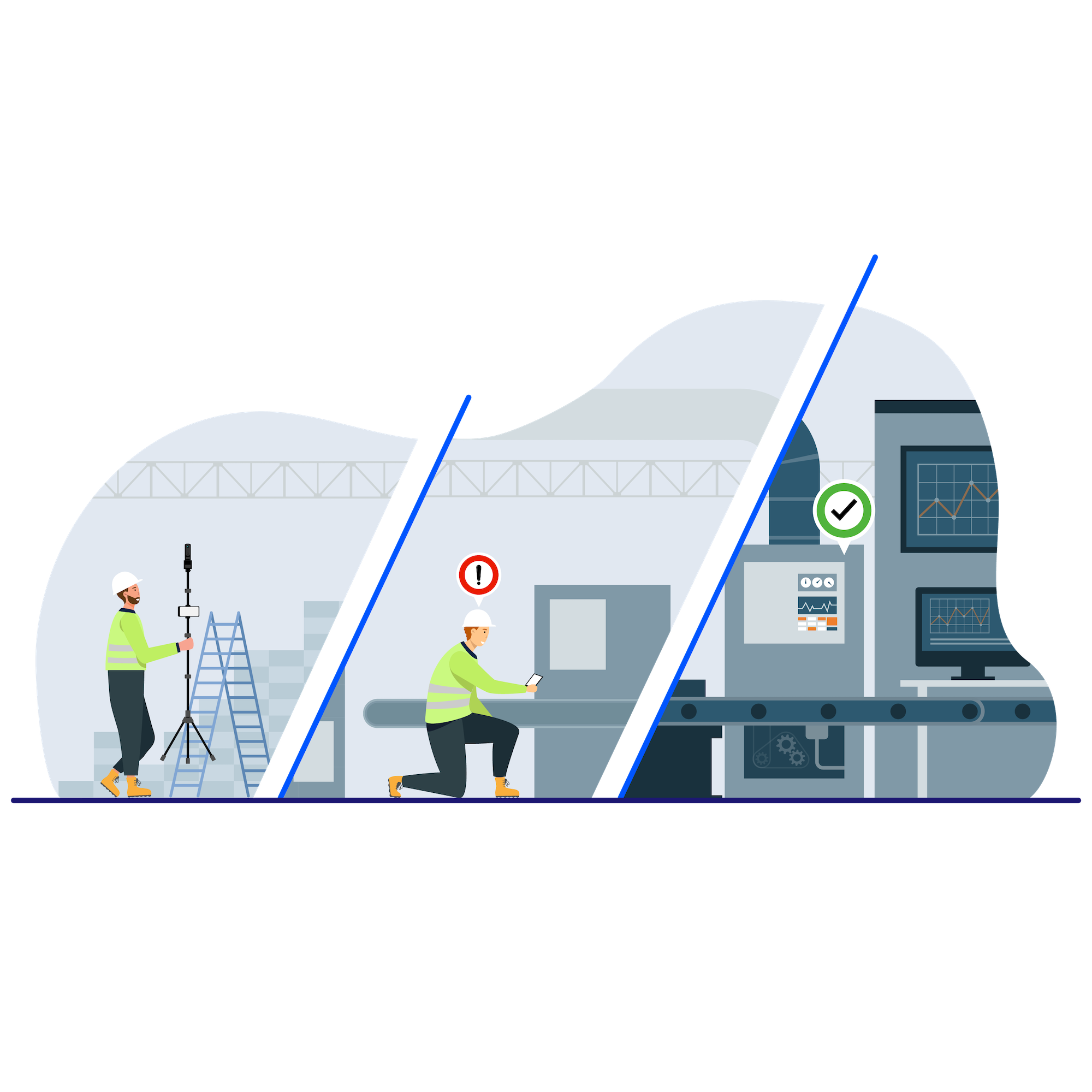 360° SITE SURVEY
A revolution for your
inspection workflow
360° digital twins are accurate, contextual, and immersive. So why not combine them with your inspection workflows? Digital twins are the best way to replace traditional 2D photo reports that can take up to a week to compile and create.
PATH TRACKING
Just walk and capture
The Beamo App is able to locate you anywhere as you perform site surveys and makes sure you are on the right track.

It's the next generation of site survey automation, just walk and capture.

Avoid human errors that could occur with manual positioning and cut post-processing time by 90%.

Perfect for indoors where GPS is absent but also works for outdoors.
USES CASES
Capture any type of space
Beamo works well with any type of physical environment you want to capture. Capture reality as far as your imagination can take you.
TAGS
Capture even the smallest details
When taking notes directly onsite, it is often hard to remember its context or exact location. The Beamo App lets you capture any information, on the go, and stitch it to its location on the floor plan. Your findings will be directly embedded in the digital twin as Tags.
Want to take Beamo for a 360° spin?
HOW IT WORKS
Make digital twin in minutes,
not hours or days
Create digital twins while performing land surveys, site surveys, or any type of field inspection. Digital twins might seem daunting to create at first. But we make it easy, fast, and fun.
360° Cameras

Survey Synchrony

Mass Upload

Fast Processing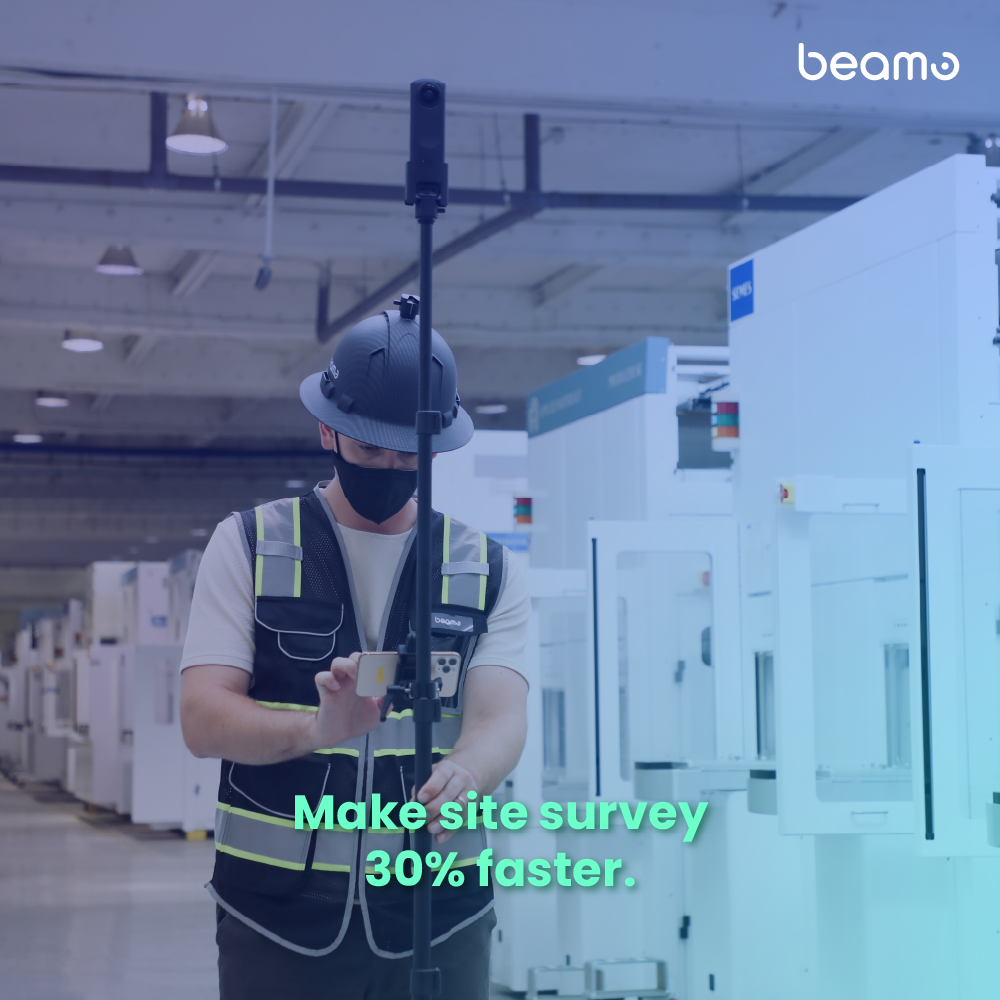 Works with off-the-shelf 360° Cameras
Breeze through the site using only a smartphone and a 360° camera connected through the Beamo app.
No expertise is needed in order to conduct surveys using Beamo. It is that simple: walk and capture.


No need for expensive, complicated 3D scanners or technical experts.


You can now send fewer people or use resources already available onsite.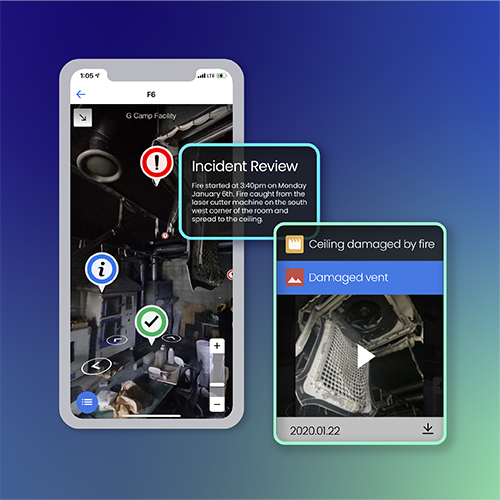 Conduct faster surveys together
Cover more ground by capturing sites by pairs or by teams.
Have teams conduct surveys together to speed up capturing process for large sites.


Work together and tag objects and areas at the same time.


All results will be compiled and uploaded into the same space.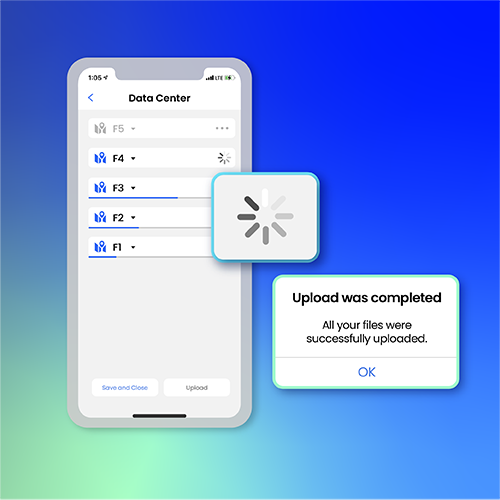 Capture now, upload later
Since reliable networks are not always available onsite, you can capture surveys of several spaces or locations and upload them when and where convenient.
Check the upload and processing status directly for the Beamo App


Queue all your downloads at once and check the result later, directly on your smartphone


No size limitations for survey uploads, capture as much as you like.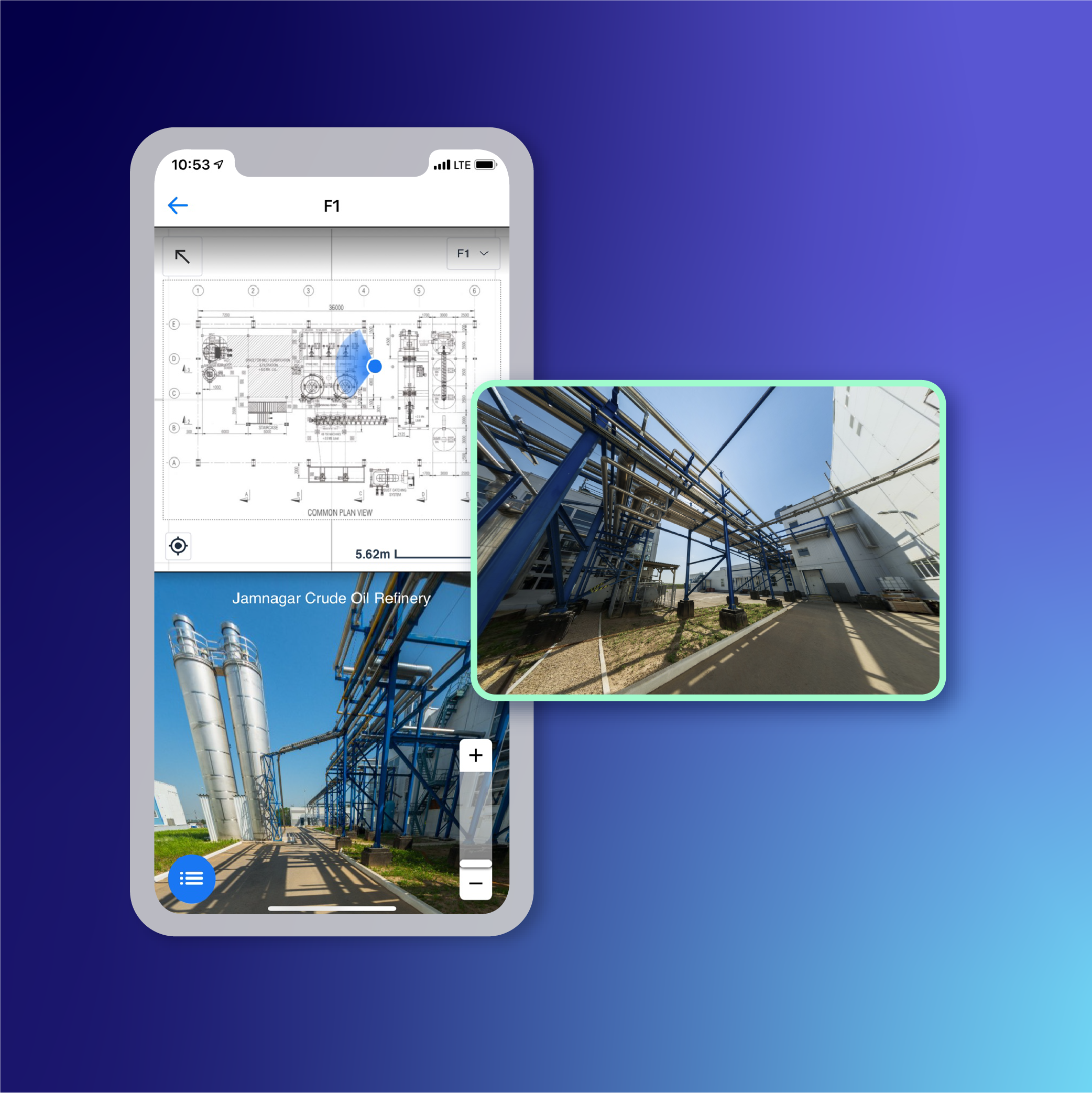 Get sharable results immediately
Once your capture is done, upload all your content from the Beamo App into the Beamo Portal. All your 360° pictures and tags will be automatically processed.
An immersive digital twin will be ready in a minute, so you can share and collaborate right away.


Always be sure that your digital twin is organized in the right place, space, and time, so you can always leverage them later.


Check the final result from your phone after a few minutes.
MOBILE 3D WORKSPACE
Keep your critical assets
in the palm of your hand
Beamo lets you browse your digital twins instantly from your smartphone, anywhere. You can remotely navigate any space on the go or check the result of your latest capture.
CAPTURE MODES
No limit to your capturing workflow
Expand your survey capabilities by unlocking new means of capturing, whether you want to use new accessories, your personal vehicle or walking and flying robots, we got you covered.
Want to take Beamo for a 360° spin?
GET STARTED
All you need to make your first digital twin
Making digital twins shouldn't be complicated. That's why Beamo democratized digital twin creation by doing away with the fancy, expensive hardware.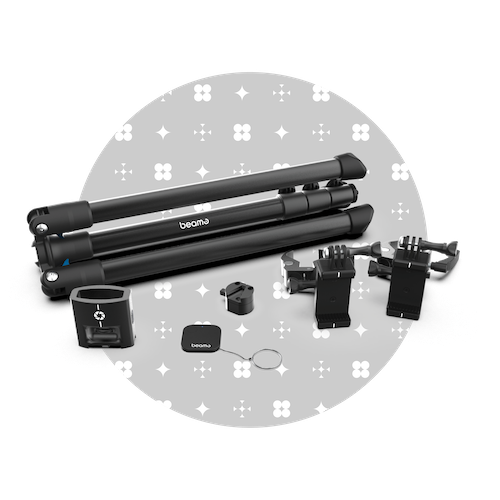 Beamo Starter Kit
Beamo Starter Kit fits in your suitcase or backpack and can easily be carried around or brought during business trips. No more heavy equipment that's difficult to manipulate or long inspection times.
LEARN MORE
GETTING STARTED
What is a digital twin and why do you need one?
What is a digital twin, what is Beamo's take on the definition and why do you even need one. Today we explore the present definition of the digital twin to try to understand its scope and potential.
LEARN MORE