MAJOR AIRLINE CASE STUDY
How a major Japanese Airline company is digitizing its training.

RESULTS
With Beamo, the flight attendants now have the training they need in context of the aircraft where they are working.
The documentation and videos are always available to them for reference or in case they need a quick refresher, on their phones and tablets.
As the airline updates the aircraft or changes procedures, new videos are uploaded to the digital twins, ensuring that flight attendants always have the latest information available to them, wherever they are.
Separately, by visually inspecting aircraft cabins remotely using Beamo, the airline has reduced maintenance costs and errors, and improved MTTR by 30%.
In addition, since their specialist technicians only need to travel to sites where they are most needed, the airline has reduced their travel costs by 30%, improving their morale.
SCOPE
A major Japanese Airline company owns 192 aircraft and leases 26 more, with 16 different commercial aircraft types. For each aircraft type, there are several different cabin configurations, installed equipment and entertainment units.
WHAT'S NEXT
With the success of Beamo in providing context-based education to the flight attendants and remote visual inspections, the airline is now exploring other use cases.
In particular, the airline is exploring creating digital twins of it's hangers and warehouses for remote inspections, information sharing and remote collaboration.
The airline is also planning to use Beamo to capture the outside of each aircraft, for visual inspection to provide general well being of the exterior, and progress of maintenance work.
CHALLENGES
TAILORING TRAINING CONTENT TO EACH AIRCRAFT
One of their major challenges is educating and training their flight attendants across the myriad of aircrafts they operate.
Even when attendants complete training, because of the different aircraft configurations and equipment, it is quite difficult for the flight attendants to keep up with them, despite having the right flight operations manuals available in the cabins.
This sometimes leads to flight attendants being unfamiliar with an aircraft and struggling to operate the equipment, impacting the service they provide.
TROUBLESHOOTING
Separately, aircrafts are cleaned every time they land at destination airports, but when something is broken, or seats are contaminated for example, the aircraft continues to operate unless the damage is severe enough that it needs to be looked at immediately.
When things require immediate attention, flight attendants create written reports to communicate damages, equipment failure and other issues to their maintenance personnel, typically located at their headquarters or hubs. The reports sometimes lack context or enough detail, leading to HQ not sending the right replacement equipment, technicians or both, or in some cases having to delay remediation.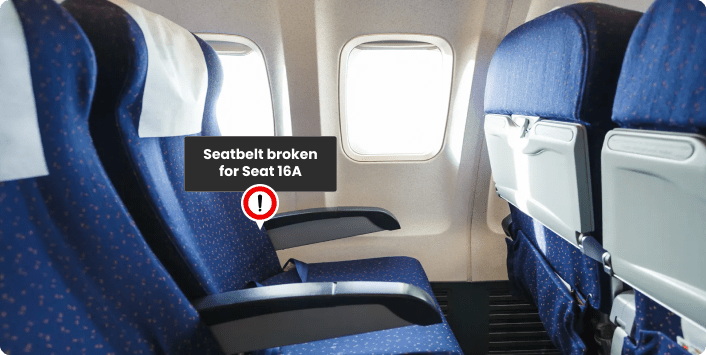 SOLUTION
Optimizing Production Operational Continuity
The airline approached us to evaluate Beamo as a possible solution to meet their education and reporting challenges. Their goal was to evaluate if Beamo could help them digitalize their training process and minimize the errors in their post-flight status reports.
Beamo onboarded the airline and helped them create surveys of the interiors of their aircraft using the Beamo Starter Kit to create digital twins.
TRAINING
Beamo helped to improve education and training for flight attendants.
Because different types of aircraft have different manuals for various devices including cabin configurations and equipment, the airline company uploaded short training videos, operation manuals and procedural documentation as tags within the digital twin.
If procedures are updated or equipment changes, the airline's training department uploads the latest documentation and videos, and notifies the attendants.
In this way, flight attendants always have the latest information available to them in the palm of their hands!
REPORTING
Beamo helped to minimize reporting errors on landing.
When the aircraft lands at their hub airports, flight attendants continue to provide error reports. However, instead of written reports, these are now digitalized with Beamo.
Flight attendants tag the damaged area on the digital twin of their aircraft using their phones or tablets, and notify the ground personnel by assigning the reports to them. They also upload specific photographs to provide greater detail as necessary.
The maintenance personnel now have a better understanding of the damage and work that needs to be done, and appropriately prioritize the work as needed.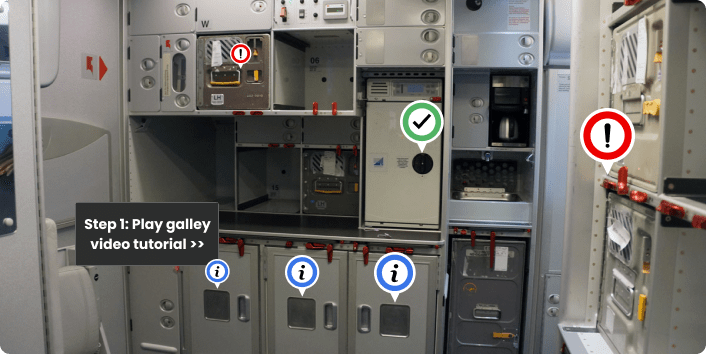 Want to go for a 360° spin?