PRESS RELEASES
3i Inc Wins Korean Government Grant to Develop the Next Generation of Beamo Digital Twin Solution
3i Inc has been awarded the prestigious Advanced Technology Center Plus grant from the Korean government.
---
3i Inc, a technology company specializing in data-driven solutions and the parent company of Beamo, has been awarded the prestigious Advanced Technology Center Plus grant from the Korean government.
SEOUL, SOUTH KOREA – May 10, 2023 – 3i Inc, a company of metaverse technology such as artificial intelligence (AI), augmented reality (AR), and virtual reality (VR) and the parent company of Beamo, has been awarded the prestigious Advanced Technology Center Plus grant from the Korean government. The grant, worth 2.4 billion won over four years, will enable 3i to collaborate with NTT Bizlink, a leading Japanese technology firm, to develop the next-gen version of Beamo Digital Twin solution.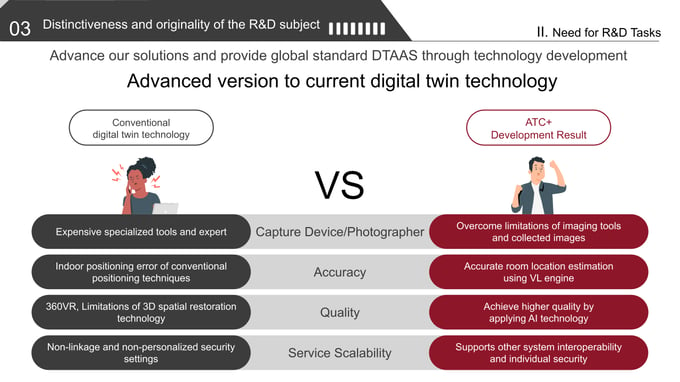 Advanced DTAAS aims to enhance security for enterprises, provide advanced 3D technology, and sophisticated communication for Beamo users, and enable the exchange of operational data necessary for informed decision-making through greater system integration. The platform's goal is to achieve development realization, increase efficiency, reduce costs, and improve decision-making through timely and accurate data analysis. It is expected to have a significant impact on various industrial sectors, including manufacturing, construction, and transportation.
"We are excited and grateful for the opportunity to collaborate with NTT Bizlink and receive this grant from the Korean government. We believe that this partnership will allow us to develop an innovative, user-friendly, and reliable platform that can transform the way we collect, manage and use data and collaborate with people."


JW Jung, COO of 3i
"We congratulate 3i for receiving this grant. We are very pleased to join forces with 3i in this project to develop the Advanced DTAAS Digital Twin as a Service platform. We share 3i's vision of providing innovative and reliable solutions to meet the needs of our customers. This collaboration will allow us to bring together our expertise and resources to deliver a platform that can help enterprises improve their operations and competitiveness through new technology."
Mr. Hitoshi Inaba, Manager of NTT Bizlink
The grant from the Korean government is a significant milestone for 3i and it is committed to utilizing these resources to develop a cutting-edge digital twin platform that addresses the real and imminent needs of companies.
---
About 3i
Established in 2017, 3i Co., Ltd. is a platform business that connects Pivo's Smart Pod hardware and applications as its main business. It also has Beamo, a solution for businesses that remotely manages industrial sites and facilities by reconstructing them into a digital space.
It has related technologies such as AI so that anyone can easily and better utilize the experience of the real world in the digital world by using leading technology to capture, share, and collaborate with real content and information in the digital space.

3i has the vision to become a platform that connects people to people at a time when everything in everyday life is digitalized and has a mission to support smooth interaction between the real world and the digital world. Based on the growth of hardware and software, it plans to focus on supplying SDK to various developers in the future. 3i aims to provide a variety of pleasures by integrating into consumers' homes, offices, and industries.
About Advanced Technology Center Plus

ATC+ is a government-supported project implemented by the Korean Ministry of Trade, Industry and Energy and KEIT to foster small and medium-sized corporate research institutes as key players in corporate growth and industrial innovation.
ATC+ aims to enhance the innovation capabilities of corporate R&D centers and strengthen their qualitative growth.

About NTT BizLink
NTT Bizlink inc. was established in 2001 to provide data center-related services to enterprise customers. Since then, it has developed into a comprehensive ICT outsourcing business that meets the cloud and customer outsourcing needs through the convergence of multilateral video conferencing services and other technologies. Utilizing the data center and video conferencing operation capabilities accumulated since its establishment, it is expanding its business area into a new field of communication and collaboration solutions and data center integrated solutions.