STEEL PLANTS CASE STUDY
SeAH CSS accelerates digital transformation for its steel factories with Beamo Digital Twins
RESULTS
A fast, easy, and cost-effective solution to create digital twins that will scale for SeAH CSS' 9 factories (with 30-40 machines in each factory) and 3 other sites
Real-time machine data monitoring and maintenance within the digital twin
Facilitate self-onboarding and remote training (especially for hazardous, restricted areas) and promote collaboration among SeAH's vast network of facilities
Documentation of worksite conditions and protocols for compliance with health and safety regulations
BACKGROUND
SeAH Changwon Special Steel (SeAH CSS) was founded in 1966 and headquartered in Changwon, South Korea. SeAH CSS specializes in producing high-tech industrial steel products and high-value special steel alloys, for industries like aero defense and aerospace.
SCOPE
To create a virtual world the same as reality. To create a digital factory that any engineer could visit and have all the information like real-time equipment performance displayed in the digital world without even going on site.
CHALLENGES
The long, hard journey towards complete digital transformation
As a forerunner in the industry, SeAH has long since begun the digital transformation of its organization. With factories located across 10 countries on 4 different continents, SeAH needs a vast network of specialists and engineers stationed at every site to ensure optimal and quality production.
ASSESSMENT
SeAH CSS operates 9 factories, with the smallest rolling mill being ~23,500 sqm. Each factory contains an average of 4 production lines and highly specialized equipment that need to be closely maintained and monitored by factory personnel so as not to delay production.
Inspecting one facility alone would mean aggregating up to 7,000 pictures and videos manually over a few months. As a result, inspecting and reporting was a slow and painful process, with the final output hard to leverage and practically obsolete almost as soon as it was produced.
A virtual world mirroring the real world's situation and conditions will help engineers monitor and maintain their equipment more safely and efficiently. For example, a single factory houses 30-40 machines. The challenge with certain machines is that while one is running, the cover cannot be lifted and the conditions inside cannot be sampled until the machine is shut down completely. This manual way of monitoring is both high-risk and unpleasant for engineers to do because of the extremely high temperatures required for steel-making.
SETBACKS
SeAH tried different solutions for creating an exact virtual replica of a factory, including CAD. But it took them significant time and resources that did not merit the resulting output. A team of 8 people designing a digital twin of one factory took 7 months to complete. The result was an 8-minute video of their factory rendered in 3D that was beautiful to look at but not much use for anything else. It couldn't achieve the vision which was to integrate real-time data feeds into the digital twin.

SeAH had already begun installing robotic arms and sensors inside the machines to automate the process from their own developed platform, Data Forge. But without the connection between Data Forge and the digital factory in the virtual world, SeAH's digital transformation plans hit a roadblock.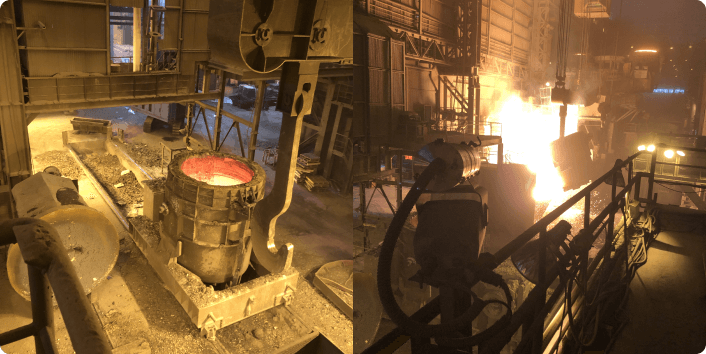 SOLUTION
A faster and simpler way to make digital twins
Beamo comes into the picture. Beamo makes digital twins for mission-critical facilities 10x faster than other solutions in the market. SeAH and Beamo enters into a POC to create a digital twin for their Reducing Size Block (RSB) machine.
CAPTURING
Creating the digital twin of the RSB machine was fast with great results.
The SeAH engineers were blown away by how fast and how easy it took to create a digital twin of their RSB with Beamo's technology. Mr. Chae, head of R&D, recounts the experience when the team arrived with just a tripod, smartphone, and a 360° camera. "What took long months of work with other solutions only took Beamo a couple of hours. But the quality was not compromised at all despite the short amount of time."

The team captured even dark and hard-to-reach corridors and inside the heavy machinery, granting engineers accessibility and visibility without having to shut down machines to open up their covers. Beamo also added a new capability for users to preview the 360° photos during capture and dynamically modify the camera settings (white balance, HDR, shutter speed, etc.) straight from the Beamo App. This helps for a smoother capture for locations with more challenging lighting conditions.
INTEGRATION
Beamo integrated easily with SeAH's Data Forge.
Beamo integrated easily with SeAH's Data Forge and displayed the RSB's data charts through Tags. With this system in place, an engineer in the office is notified of an issue and visits the digital twin to look into it without having to go all the way to the factory where the machine is located. Another relevant use case is augmenting the digital twin with the factory's best practices, safety and training materials, tribal knowledge, and daily operating materials. A team located in another facility can just log into Beamo and learn and apply the tips to their own facility.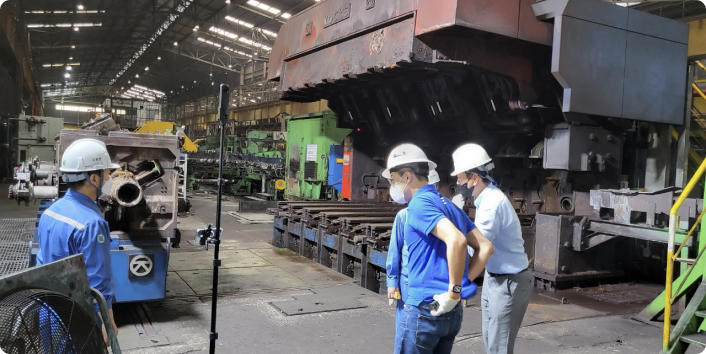 WHAT'S NEXT
Ready, set, scale
SeAH is excited for the next steps of the digital transformation of their factories. Mr. Chae says, "With Beamo's solution, we can accomplish more with less time and effort. Our next course of action is to integrate the rest of the machines in the production line after the RSB machine such that they are all connected operationally and visually in the digital twin."


Mr. Chae is confident that the project will be successful and that they can eventually create digital twins of their 9 factories and 3 other sites, and after that, to other affiliates in SeAH like SeAH Steel, SeAH Besteel, and so forth.




Want to go for a 360° spin?