SMART FACTORY CASE STUDY
Major semiconductor manufacturer introduces Beamo as a framework for immersive information management.

RESULTS
Beamo is currently used across three campuses (factories, underground tunnels, electrical rooms, and manufacturing floors' supply rooms) with over a dozen facilities averaging 18,000 sqm.
Many benefits have rippled across the Facility Management process.
Avoid stopping manufacturing processes and freezing assembly lines
Avoid paper-based documentation
Avoid unnecessary on-site travel
Better collaboration within teams with a very high degree of customization for the group management
Better maintenance record and continuity between shifts
Better information segmentation and security, depending on member access levels and tasks
Better onboarding of new recruits
BACKGROUND
The client is a major manufacturer of electronic components such as lithium-ion batteries, semiconductors, image sensors, camera modules and displays for clients such as Apple, Sony, HTC and Nokia. It is the world's largest manufacturer of mobile phones and smartphones.
SCOPE
The manufacturer wants to integrate Beamo's digital twin solution with its existing data and user management systems to bring the power of spatial computing and VR for a contextualized and central facility management.
Assessment
Establish a centralized spatial data and documentation management platform
The manufacturer wishes to create a whole new system that contextualizes and spatially organizes existing factory data. Consequently, teams would benefit from a more natural way of communicating and understanding information. This system also provides a good framework for remote facility and site operations (inspection, maintenance, etc.).

The scope of the project was the creation of a digital twin of the manufacturer's facilities, which are serviced by numerous independent teams. These teams use the digital twin as the source of truth, allowing them to reference materials such as SOP documents and log their work reports.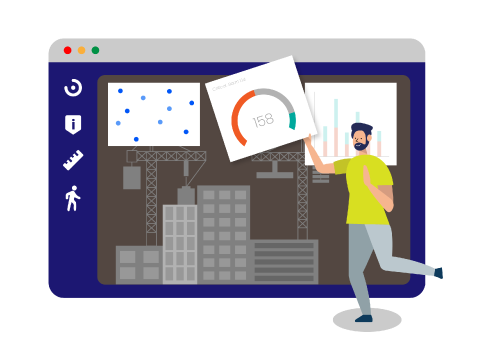 MAIN MOTIVES
The Manufacturer wants to use the solution for the purpose of safety education, pre-site visit preparation and collaboration regarding facility management.
Create digital twins of hard-to-reach areas such as sub-flooring and suspended ceilings for construction and inspection purposes.
Create an infrastructure to enable implementation of future AR and IoT applications.
HOW IT WORKS
The platform runs on a web browser, which is directly accessible through the manufacturer's internal system. Employees can access it using SSO authentication. Existing factory data can integrate with the platform. The difference is that the existing information is geo-referenced, giving mostly text based information an accurate visual anchor and context. This way, users are able to see in real-time, in the Digital Twin, when facility equipment related information is stored in the Manufacturer's EDM, SOP, supply system information, factory equipment master list, CAD documents, etc.
SOLUTION
Optimizing Production Operational Continuity
Collective information coming from the EDM and Beamo is gathered under the VRDB (Virtual Reality Database). This is mostly information specific to different lines of machines- each machine has a name, a system (type of machine category) and subsystem (subcategory). Maintenance information, operational manuals, CAD documents, etc. are managed separately within the EDM. All of this information is brought together in the VRDB. In the manufacturing lines, machines must run continuously, whereas maintenance teams run in shifts. Therefore, there is a need for continuity and work records.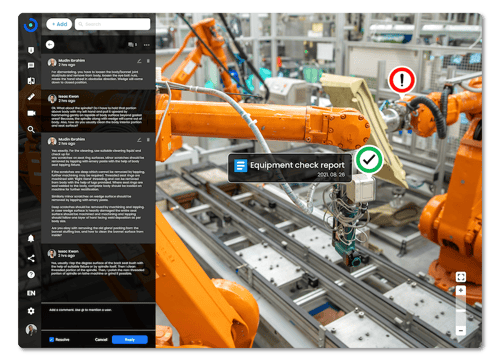 BEFORE
Before, sheets of papers were placed in front of every machine, and engineers would check boxes, draft reports, input the results into an Excel document, which would be uploaded onto the EDM and shared with the other teams.

Onboarding new team members was strenuous and required repetitive explanations from team leaders (how to access points on the factory floor, where they can find different equipment, etc.).
The manufacturer wished to introduce a new onboarding workflow using our solution.
This workflow was implemented in consideration of security regulations such as the absence of wifi and clear physical access regulations. Beyond those constraints, the system was to be flexible enough to propose a viable solution while keeping a streamlined workflow.
Also, when creating a project, a group must be assigned to the project for execution purposes. Groups contain information such as the name of the member and personal information, which is directly obtained through the company's employee data management system.
AFTER
Users now possess a centralized platform to access facility spaces in 3D and access the VRDB.
They are able to embed information pulled from the VRDB directly into the digital twin (3D space) to be shared within defined and compartmentalized groups.

The manufacturer streamlined their workflow using a mobile app for 3D space acquisition and a web platform to store and access the 3D view of the 3D space.
Create a project containing the location information of the soon-to-be captured space and assign human resources to the task.
Upload a floor plan to create a minimap that will give a general idea of the space and how to navigate within that space.
Capture the space using a smartphone and Pivo rotator to create a 3D view of the space
Add valuable information to the VRDB, signs & tags.
Use the 3D view for field operational management and information. Examples include: training, inspection and equipment history inspection.
RESULTS
Avoiding downtime and boosting collaboration performance.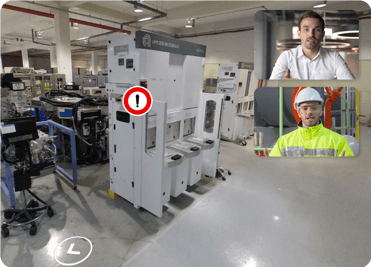 ACHIEVEMENTS
Paper memos in the workplace are replaced by tags in Beamo's 3D Workspace. Digital documents are directly referenced in the digital twin for better collaboration.
One practical example is to view hard-to-reach spaces like between pipes in the ceiling or under floor tiles. Instead of going onsite and checking directly, the 3D digital twin can save time by allowing teams to do inspections remotely and virtually plan out future improvements.
Onsite teams are using our solution to take pictures with a long tripod and then use the 3D view to perform inspections from the office. They have already discovered leaks that were quite dangerous and previously unknown. The types of chemicals that pass through the pipes are very toxic, carcinogenic, and corrosive. A single drop of this chemical, if detected, would force everyone on that part of the factory to stop working until they can identify and fix the issue. This can cause hundreds of thousands of dollars in losses on an hourly basis.
MOST LIKED FEATURES
Site Map: Provide a birds-eye view of the facilities.
User management system: Customize access levels to share information between all layers of a complex user system (overseers, departments, teams). Users can have different access to groups, different roles, or different privileges compared to other members with the same role.
3D Workspace: Provide an immersive and interactive view of the spaces where you can rotate and zoom in on details.
Interactive Floor Plan: Easily navigate through space using the interactive floor plan.
Guided Path: Check a walkable route for indoor navigation purposes, with the ability to bookmark preferences at specific locations. Those bookmarks are used to register and reproduce walking routines within the 3D space (movement, rotation, zoom in/out, and information highlights). The bookmarks can be shared between users, which is good for onboarding, and avoiding repetitive tasks.
Tags: Embed valuable information into the 3D Workspace, such as notes, documents, images, and videos using tags that can differ depending on the groups. All tags can be searched using Facility ID. Company information contained in the VRDB can be directly embedded into the 3D Workspace. Tags can also contain an expiry date.
Interaction Logs: Each user interaction with the system is recorded as a log and saved along with the time of interaction.
Want to go for a 360° spin?